Finley's Foray
Sweet Finley Before She Went Missing
A Very Long Way From Home
September 19, 2018


Preface
This story is about the rescue of a dog named Finley, a female Brindle Lab mix. Finely is special because she is afraid of people and loud noises and consequently was in the Woods Humane Society shelter for six months until a very caring couple adopted her and provided a loving and safe home. After two months of enjoying the good life, a loud noise scared Finley and she ran off. She had been missing for about three weeks and literally ended up in hostile territory until she was located, captured, and returned home.


Finley's Foray
Some months ago I watched a video on the Woods Humane Society Facebook page [FB link] that showed a very scared dog named Finley being walked by an employee. Finley is shown barely moving, afraid of the employee, and only taking a step or two when treats are put in front of her. I was saddened by the video, wondering what Finley had endured by humans prior to her going into the shelter. The text below the video gave this description:

"This beautiful girl needs a quiet, loving home ASAP! NO ADOPTION FEE. Finley is gentle, but very frightened here at Woods. We are looking for her special someone that will show her kindness and patience and help her build confidence. She would do best in a quiet home as she is frightened by loud noises. She was originally a stray, but the way she keeps her kennel clean might mean she was once someone's loving companion. Please help us spread the word. Finely is about 6 years old and weighs 56 pounds."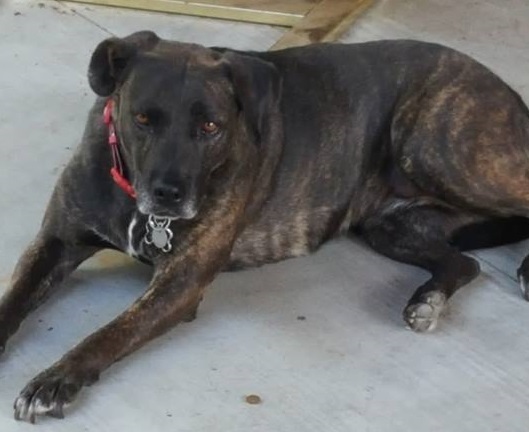 Fast forward three months or so and I noticed a lost dog posting on Facebook from Atascadero and it's Finley. I thought how tragic, a dog scared of people and loud noises is now out on her own. All it took was an accidental drop of a dinner plate making a loud noise to cause Finely to bolt out of the house, under a fence, and she was gone. In a relatively densely populated area where Finley lives, I would have expected a sighting of her soon, maybe even on a daily basis. But there was nothing.

About three weeks later, as I was coincidentally preparing to leave home to go retrieve a large dog trap from California Valley, I noticed a post on Facebook from Finley's owner. She briefly said there had been a sighting of Finley near Cone Peak road. Say what? Cone Peak road is over eighty miles from Atascadero by the shortest route and involves passing through a military base, then driving on the very curvy mountain road named Nacimiento-Ferguson. How could this be a valid sighting?

I stopped to send the owner a message and she confirmed the sighting adding that a photo of Finley had been taken. Well, instead of the three hour round trip to California Valley, I decided to make a four hour round trip to the Cone Peak road and meet Finley's owners who were also headed there.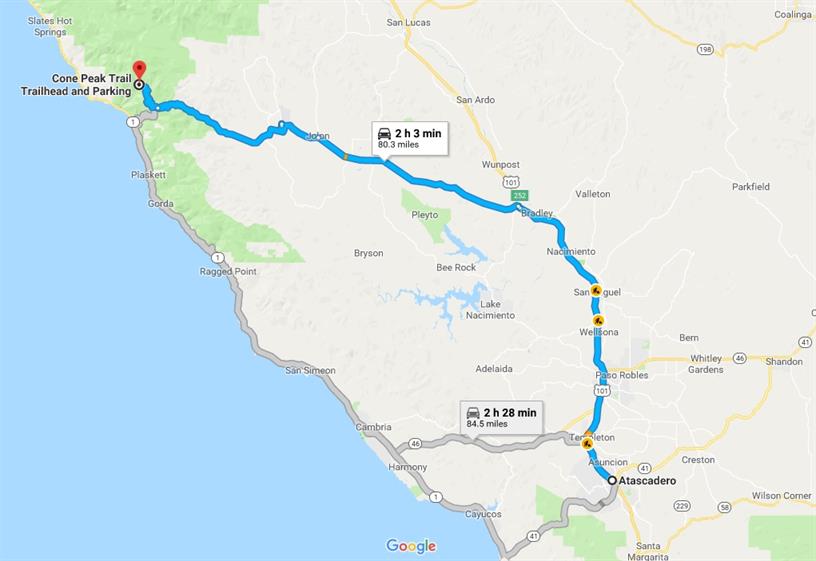 When I arrived, I stopped at the USFS station located near Cone Peak road. I met the Captain there who filled me in on two sightings of Finley earlier this same day. Shortly thereafter, Finley's owners drove up, they had already been out looking for her. I went back with them to the location that Finley was last seen, up Cone Peak road about one-half mile.

We searched a little for Finley and I was particularly interested in the dog tracks on the dirt road and trying to determine the nearest source of water as all of the creek beds were completely dry. It was Sunday, so there was a fair amount of traffic, people hiking and a few cars on the road. I wiped clear the dog tracks I had found knowing I'd be back early the next morning to check for fresh tracks. While I was there, I placed one trail camera with some food and water nearby.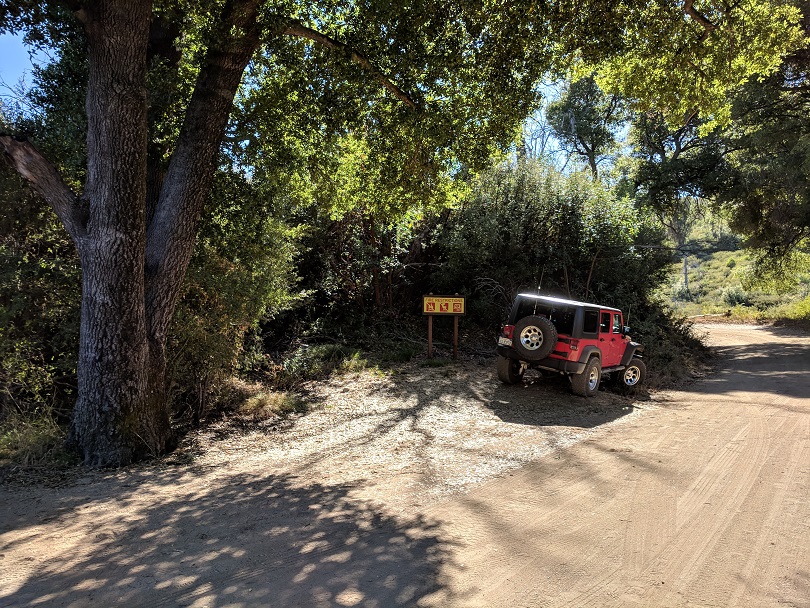 Location of Confirmed Sighting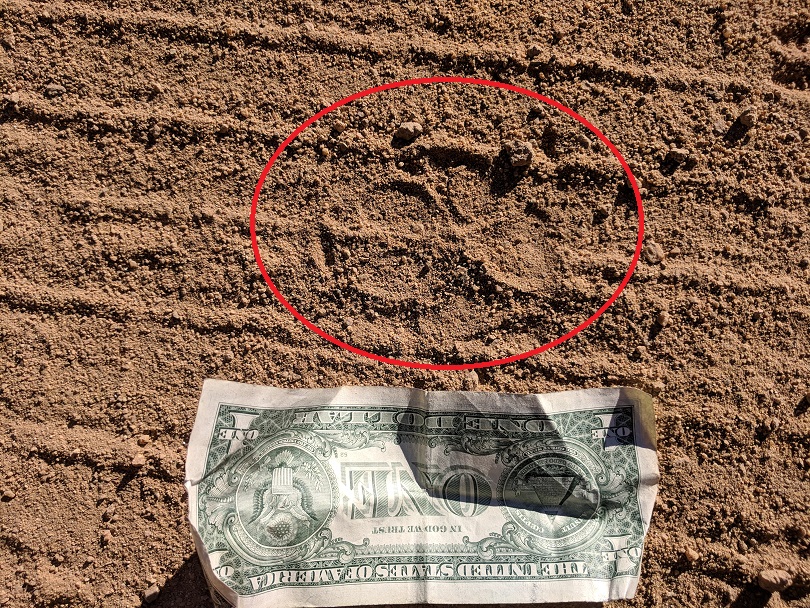 Finley Is That You?
While we were naturally disappointed in not immediately finding Finley, I was more concerned for her well being in this very rugged area of the Santa Lucia Mountains. Past studies have been done by the Department Fish and Wildlife showing a very high population Mountain Lions, and if water is scarce that means many animals showing up at the same water holes in the area.

After returning home that evening I studied the area on maps looking for possible water sources and where Finley might travel given her last known location. Everything off the road is heavily overgrown and/or steep terrain, not the likely path for a dog whose preference would normally be the path of least resistance. The only realistic choices for Finley would be on the dirt road down to the paved Nacimiento-Ferguson road which is routinely traveled by autos.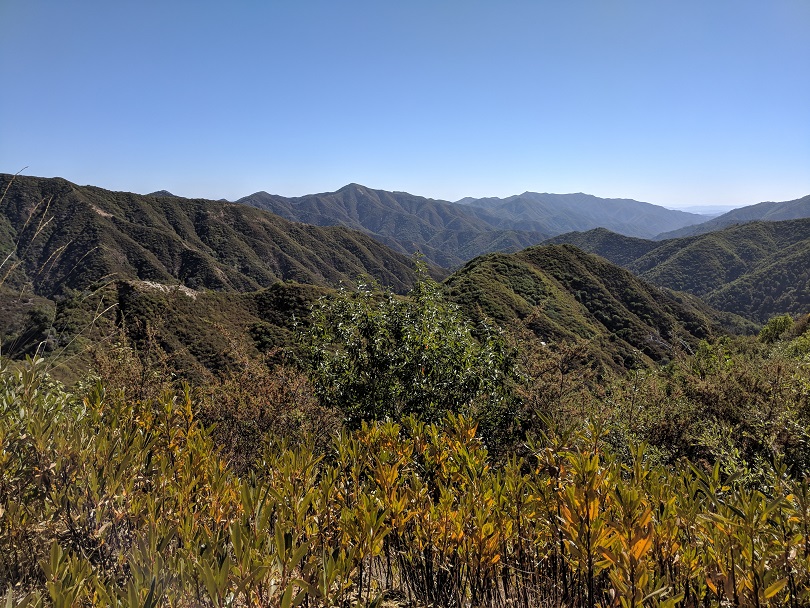 Looking Back to Where Finley Was Observed In the Rugged Santa Lucia Mountains
The next day, Monday, I drove up early to search for Finley. In doing so I contacted more than a dozen people (hikers and campers mostly), asking if they had seen her. Nobody had, but I gave each of them my contact card just in case. To make things worse, there is no cell phone reception in the area for many miles around, delaying any form of communication about Finley.

I placed two additional cameras, one at a water source and the other at the USFS station (their station cat has an outdoor water dish). As is my habit, I also check the area for scat, only finding Coyote and Bear scat. Since Finley wasn't showing herself, I thought she could be hunkered down nearby after a couple of scary contacts with people from the day before, or has taken to the road at night and could be many miles away already. I recalled one of Finley's owners posting on Facebook, "She will not be easy to catch due to her fear of people. But I am concerned she will bolt again".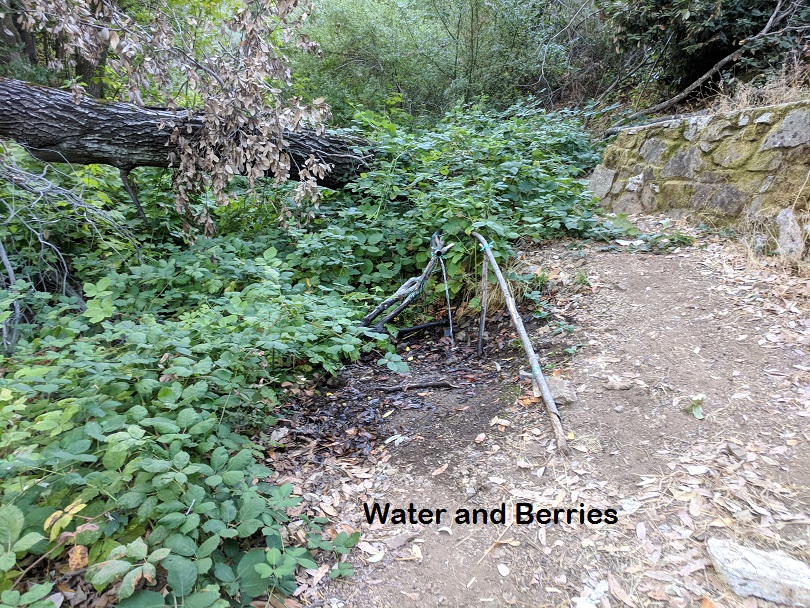 A Water Source Along Nacimiento-Ferguson Road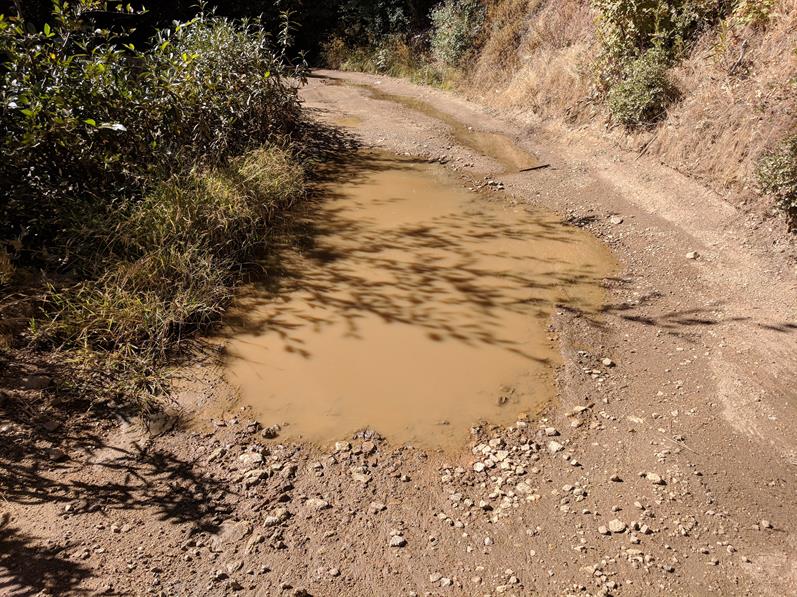 Water Flowing Onto Cone Peak Road Fron a Natural Spring
Knowing lost dog posters are the most effective way to get reports of sightings, I left the area and drove back to Paso Robles to make seventy "Finley posters". My objective was to place posters far and wide, encircling any area Finley could travel in a couple of days by road.

On my way back down the mountain I was talking with a friend, Tom (via an Amateur Radio repeater) who asked what I was doing up Nacimiento-Ferguson Road, so I told him. He said he was interested in joining me the next day to help. I realized this could be extra helpful, as he is a retired Fish and Game warden who spent two or three decades overseeing the very area Finley was in and has expert knowledge of the mountain range. We agreed to meet in separate vehicles at the USFS station early the next morning.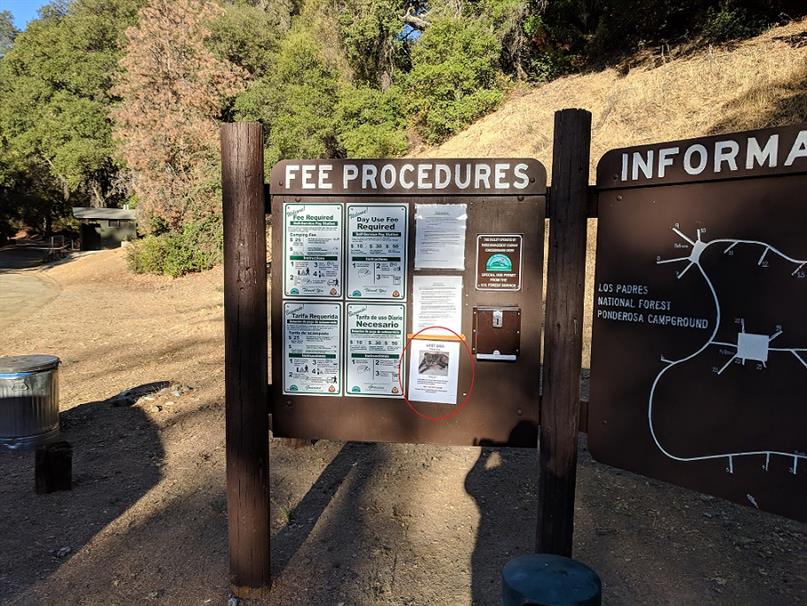 A Nice Poster of Finley Next to the Fee Proedures
Tom arrived and met with me as I was checking one of the trail cameras. We decided to go have a look around where Finley was last seen a couple of days earlier on the theory that she has bedded down at that location.

Tom followed me up Cone Peak road at quite a distance as the road is extremely dusty. As I arrived, I parked short of the area so Tom would have a place to park his pickup truck. I stepped out of my Jeep, took one look back for his pickup which was still out of view, and when I looked forward again - there was Finley. She stood in the middle of the road with a "where have you been" look on her face.

While happy and surprised, I was concerned that Tom's truck would scare her off, so I walked down the road a bit and made hand signals for Tom to stop his truck and cut the engine. He was just in view of me and Finley - but far enough away as to not pose a perceived threat.

Normally when searching for a lost dog I always sling a backpack that contains the necessary items to secure a dog safely (food, leashes, treats, rope, etc.). But now it was in the back compartment of my Jeep and I didn't want to scare Finley off getting the pack. Thankfully I had one small can of food in hand along with some small dog treats.

While Finley watched very cautiously , I walked over to a shade tree nearby and laid down on my side in the dirt. I opened the little can of "extra stinky" food and tossed a little her way. She sniffed at it, but nothing more. Then I tossed a bigger piece, and she ate it. This went on for a while, but I was rapidly running out of food. She was obviously very hungry and she knew I was being very passive in giving her food. I managed to very slowly get up walk back to the Jeep while she ate a few treats. I quietly got two large cans of dog food and many more treats, then slowly resumed my place laying in the dirt.

For twenty minutes or more, I tossed Finley food and treats. She got closer and closer, eventually she was eating directly in front of me, but would not eat out of my hand and if I moved my arm away from my body at all she would back away. It was at this time, with the food about gone, I realized I was suddenly ill prepared to capture Finley.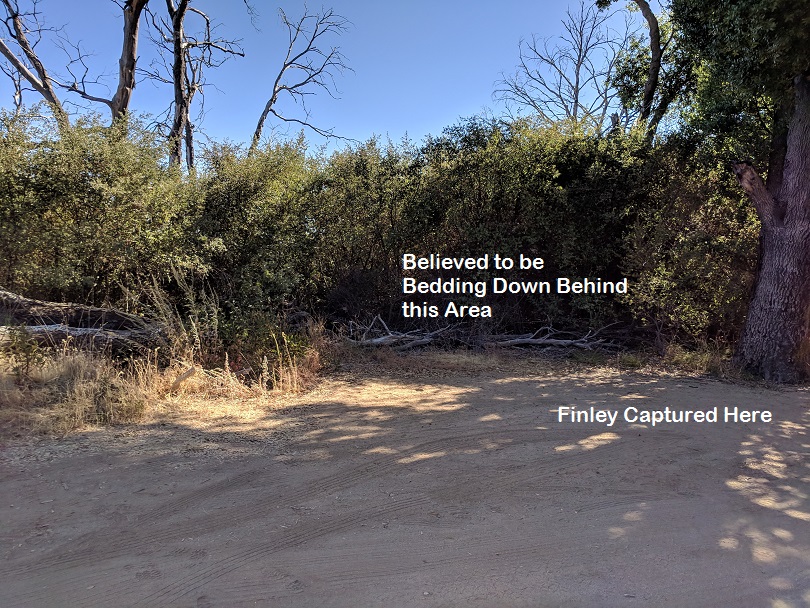 This is Where We Got Acquainted
Given her history, being afraid of people, having been in the mountains for nearly three weeks on her own, and only seeing me as a stranger with a little food - my odds of successfully capturing her seemed dim. I only had two options, leave Finley until the next day to retrieve my dog trap from California Valley, or take a calculated risk of grasping her collar (which I could see was very loose from all the weight she had lost). The choice was clear, I didn't want to miss what might be my only opportunity to get Finley home. I knew Finley was very scared and in a feral state, so she certainly doesn't want anyone holding her collar.

Laying there in the dirt, with Tom observing from thirty yards away in his truck, I put the rest of the food and treats out in front of me. With my right arm laying on my side and Finley happily eating with her face right next to me I begin to move my arm as slowly as I possibly could. A couple of times she would look up briefly and I would stop my arm, then resume very slowly while she ate.

I carefully placed my hand next to her neck and pushed my fingers under that loose collar , grasping it tightly. Finley had enough loose collar to step back and put up a struggle, but I was able to secure her by twisting on her collar. By now I was straddling Finley and also trying to calm her . She settled down pretty quick but obviously did not like the situation.

I yelled over to Tom, thinking how lucky I was he came along on this day. Tom then retrieved that backpack I should have had to begin with, which had two ropes with metal clips which I used to secure Finley so she could not escape (used just like a collar, one around her body and another around her neck). Once Finley realized she really wasn't going anywhere, she calmed down quite a bit.

We were able to get her into the back of Tom's pickup truck without issue and decided to go to the USFS station to regroup. I felt bad for Finley, having been so scared and then I come along and scare her even more. But now she was safe.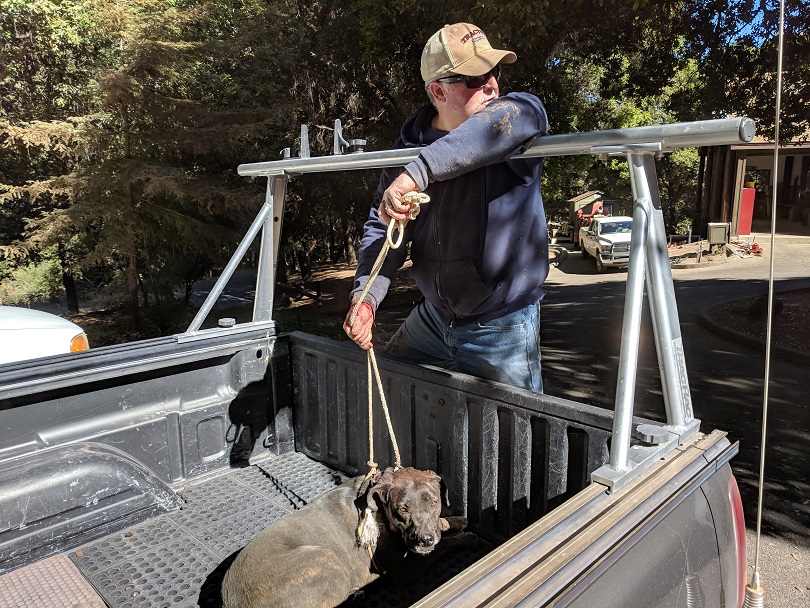 Arriving At the USFS Station Below Cone Peak Road
We quickly arrived at the USFS station. This has got to be the finest run station in the State, led by Captain "Murdock" . The Captain and his crew were paramount in helping me find Finley, providing whatever they could in the three days they put up with me. I cannot say enough good things about this crew.

Right away they realized we had Finley. The good Captain was already on the phone with Finley's owner and we agreed meet in Lockwood (a small town an hour away from us). With Finley secured in the back of Tom's truck, and seemingly quite content, we rolled out of the station and down Nacimiento-Ferguson road.

Tom went first so I could keep an eye on Finley and we devised a plan to communicate how or when to stop. There were no issues on our way down the mountain and as we arrived in Lockwood, Finley's owner was there waiting for us. He was well prepared with a dog crate in the back of his truck and what appeared to be new collars and a harness for Finley.

Finley Is Comforted By Her Owner Before Transfereing Her to His Truck
Seeing the genuine emotion from him when he saw Finley for the first time in three weeks made everything worthwhile. There is no amount of time or money that cannot be surpassed by the love for a man's (and woman's) best friend.

Welcome back home Finley, you are a lucky dog to have such caring parents.

Conclusion
Based on Finley's location, dog prints, water sources, trail camera images (or lack thereof), mountain terrain, roads, Finley's low weight, and interviews of people in the area - I can only conclude that she was:

1. Taken by vehicle and escaped/or dumped at the exact location she was rescued.

2. Remained in the same spot for the preceding three weeks, only venturing out to get food and water when absolutely necessary.

3. The two confirmed sightings (by separate people) unintentionally scared her as they likely attempted to secure Finley by also offering food.

4. When I came in contact with Finley she would have been at maximum anxiety level and extremely scared, motivated by hunger only.